About Us
→ Your online store for traditional top end Italian food and wine in the UK ←
From Florence to Emilia
It all started at Lorenzo de' Medici's court, where the family Caneri took part in the Pazzi conspiracy (the plot to displace the de' Medici family as rulers of Renaissance Florence). On 26 April 1478 there was an attempt to assassinate Lorenzo de' Medici and his brother Giuliano. Lorenzo was wounded but survived; Giuliano was killed. The failure of the plot served to strengthen the position of the Medici and the Pazzi - the Caneri were banished from Tuscany.
The Caneri family changed their name in Pallai, after their fief Palaia near Pisa, and they moved from Tuscany to the Emilia region. They settled just on the other side of the Apennine Mountains and they imposed their rule to the local shepherds and farmers. Their coat of arms was three balls as opposed to the de' Medici's six balls.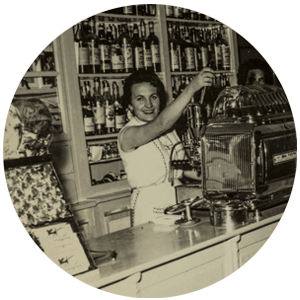 Carducci and La Dolce Vita
In 1900 a young lady hosted, in her family's hotel and restaurant, the Italian Nobel for literature Giosuè Carducci, during his journey by coach from Bologna to Tuscany. That lady was our founder's great-grandmother, Giuditta Pallai, a skillful descendant of the Caneri family, under the three balls coat of arms.

The mastery, kindness and beauty of Giuditta's daughter-in-law was well known in the area and her food shop and bar was to become an undisputed meeting place. Traditional Italian food, hand-picked wine and the joy of living were the key ingredients of their success. It was the 60's, the Second World War was long ago and Italy was 'La Dolce Vita'.
A family business
Nowadays, as back then, our passion for good traditional food and fine wine has not changed. Italy2Eat was founded in 2014 by a passionately foodie husband and wife team, assisted by a small local team of equally passionate foodies. They infused in us the same extraordinary passion for Italian food culture and history. We seek out the very best local small producers in Italy to source the finest authentic and handmade products. In this way, supporting small producers and letting you taste and experience something really different.
We are always very happy to talk about food and wine, in either Italian or English! Please call us on 01476 550420 and follow us on social media.
We are truly passionate about our food culture and history, and would never sacrifice quality for price. We love to cook and use all the products in our own kitchens on a regular basis. All of Italy2eat's products are genuine Italian in order to ensure excellent quality and delicious taste. We also combine our Italian producer's culinary superstar products into beautiful and delicious food and wine hampers, which make wonderful gifts for gourmet cooks and food lovers.
OUR MISSION is AAA Italian Food
| | |
| --- | --- |
| Authentic | Our products are genuine Italian. We select 100% seasonal Italian food produced in Italy with Italian ingredients in order to have excellent quality and delicious taste. |
| Artisanal | We carefully source to offer authentic and handmade products thanks to long-standing direct relationships with our small Italian producers of great provenance and expertise. In this way, we support small producers squeezed by chain stores and let you taste and experience something really different as made back then. |
| Accessible | We are dedicated to offering the best gourmet Italian food and wine at reasonable prices even compared to supermarkets. |
OUR VISION
We wish to be the UK's reference for high-end Italian food and drink offering the finest products at the lowest possible price points and creating a healthy food culture.
OUR VALUES
Sharing joy and knowledge is our main value.
We feel that it's not just important that we know everything about what we offer, but that you also learn about the products we are so passionate about. The more you know the more you enjoy.
For this reason, we would love to involve you in the stories of the people and the places behind what we offer and create value over time through sustainability, transparency, and self-development.